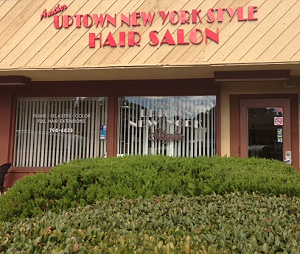 Solana Beach Hair Salon
Uptown New York Style – Not Your Typical Hair Salon
Uptown New York Style provides a variety of hair salon services, including everything from hair straightening to hair coloring and scalp treatments to promote healthy hair. While there are many beauty salons in Solana Beach and San Diego that offer similar services, none provide the same level of knowledge and skill in modern hair styling approaches.
You are never treated as just another patron – we form long-standing relationships with our clients, making them a true part of our Uptown New York Style family. We have established a strong reputation for not only beautiful hairstyles, but our quality, hand-crafted custom hair replacement systems and hair weaves are known throughout San Diego County and the world.
Hair is your crowning glory and should be treated with respect. We all want to look our best, but there are environmental hidden costs of this and long term effects on our health from the chemicals in certain hair products. This is why you won't find our products at your usual hair salon in San Diego. You'll have to come in to Uptown New York Style to experience the difference in great hair care.
We have an amazing team of makeup experts to help any woman feel spectacular on her special day or an evening out on the town! If you are looking for an upscale experience with a down to earth vibe and atmosphere, book your appointment us today! Everyone is welcome and we want you to Be as beautiful as you truly are.
Uptown New York Style Hair Salon • 524 Stevens Avenue • Suite 9 • Solana Beach, California 92075 // (858) 794-6833